Anniversary Flowers
Did you know that flowers are sex organs? Did you know flowers stimulate Happy Hormones? What is her favorite color? Favorite Flower? What flower did she have in her wedding bouquet?
How about including a Starbucks Card, Brighton style Business Card Holder or Pashmina shawl in her favorite color?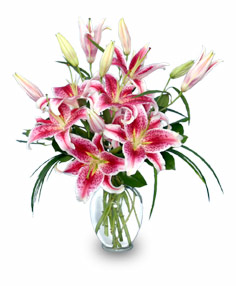 PURELY STARGAZERS
Flower Vase
These colorful Stargazer Lilies are beautifully-fragrant and a lovely reminder that spring is in the air!